Karen Christian Alvarado
Karen Christian Alvarado hails from Austin and is an award-winning international artist.
The sculpture "Foam on the Waves" was inspired by Hans Christian Andersen's story, "The Little Mermaid."  In the story the little mermaid is given the choice of living an idyllic life indefinitely as a mermaid, with the caveat that this requires her to kill the prince, whom she loves, but who loves and is engaged to someone else, or, if she refuses this option, becoming "foam on the waves."  Although she intends to take the prince's life, on entering his room and seeing him asleep, all the love she has had for him washes over her, and she can't do it.  Throwing down the dagger she is holding, she jumps overboard to become "foam on the waves."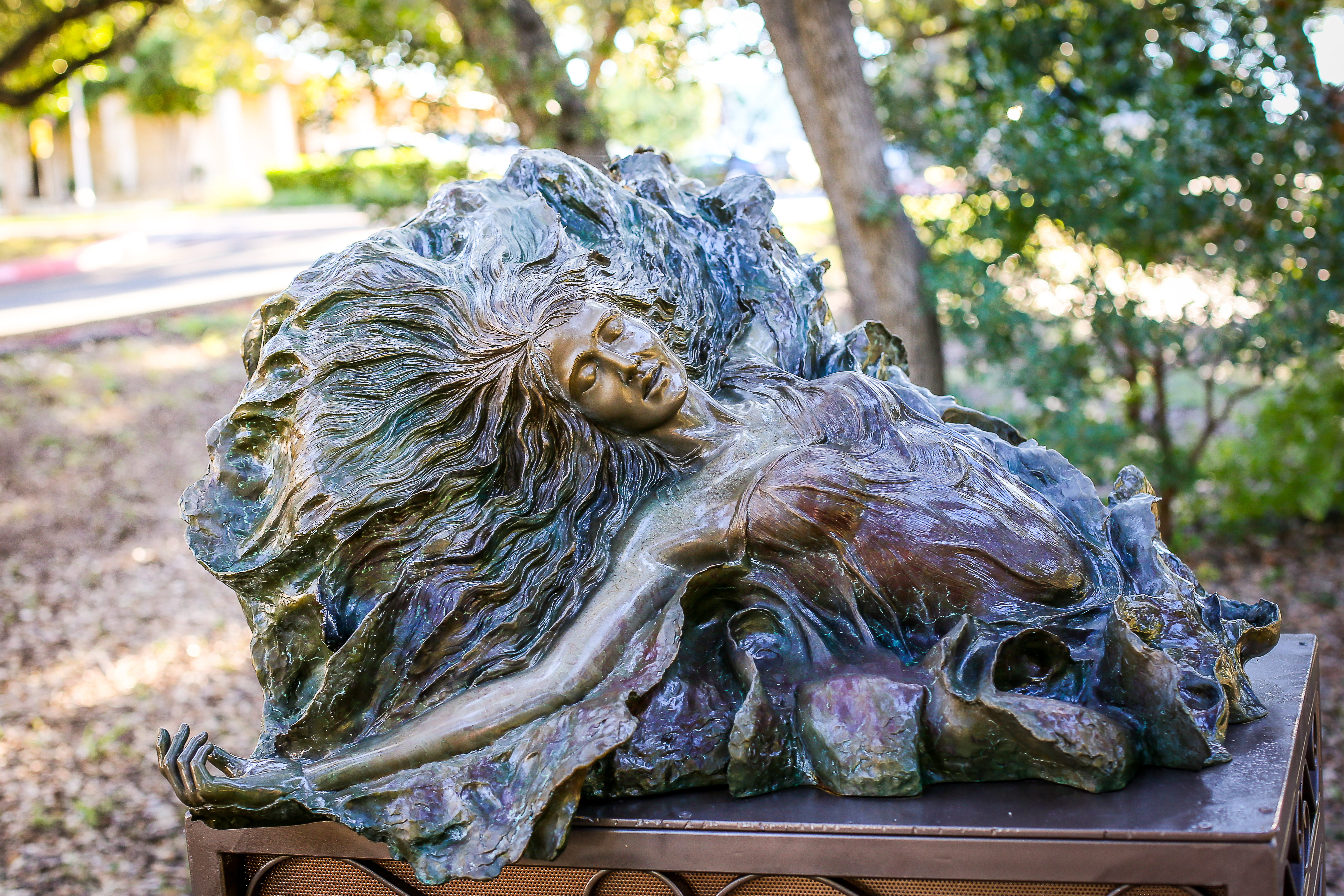 So, outwardly, the story has a tragic ending.  However, I believe that fairy tales often incorporate much more profound symbolism than is immediately apparent, and this one seems to me to embody a great truth.  In giving up virtual immortality enjoying the things she holds very dear for the love of one man, she discovers, in becoming "foam on the waves," that she is more than the single droplet of her individual life; she is, in fact, a part of the ocean itself, and of all that is.  As the great psychologist Carl Jung said after a close brush with death, "the little finger knows itself a member of the hand."  I have attempted to capture her at the moment of transition from great sorrow to the joy of this profound recognition.
Here is a little more about Karen…
Karen Christian Alvarado was born in Austin, Texas and raised in both Austin and El Paso, Texas.  In adolescence she traveled to India with her family and lived there for two years.  While there, she was exposed to and influenced by the rich and varied art of that culture.  After finishing high school on her return, she studied both art and literature at the University of Texas at Austin, and continued to study art in various forms after graduation.   
Her work incorporates elements of magical realism, myth, and story, which have fascinated her since early childhood.  She incorporates these themes, which she finds rich in symbolism, into her figurative bronze sculptures.  
She has won awards in Arts International shows, and her sculptures are owned by health care corporations in El Paso, Texas. She is a member of the El Paso Art Association and has a studio in downtown El Paso.  
To learn more about Karen and her art please send her an email.
The Foam on the Waves sculpture is available for sale. The price is $15,000 with a portion of the proceeds benefitting The Bee Cave Arts Foundation. Contact the artist directly if you are interested in acquiring the piece.