Yuliya Lanina
Yuliya Lanina's Earth Mother sculpture symbolizes fertility and motherhood, motifs that appear often in mythology. The artist's dedication to the earth is illustrated as a large, whimsical female head that emerges from the earth and engenders awareness and respect for the natural world. The piece reminds us that as Mother Earth cares for us, we also care for her. The piece is dedicated to all mothers.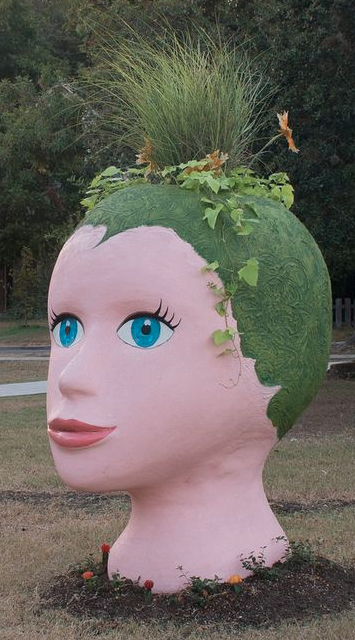 About the artist
Yuliya Lanina is a Russian- born American multimedia artist who lives and works in Austin, TX. Lanina draws from many sources to create her work. Though she often taps into Greek mythology she also relies on Russian fairy tales, which are filled with fantastic beings deeply rooted in paganism, mysticism, and symbolism.
Lanina's work has been displayed at the Seoul Art Museum (Korea), Moscow Museum of Modern Art (Russia), Ludwig Museum (Germany), SIGGRAPH Asia (Japan), Yeosu/Seoul Biennale (Seoul, Korea) and other venues. Her recent solo shows include Cleveland Institute or Art (Ohio), Women and Their Work (Austin, TX), Patrick Heide Contemporary (London, UK), Sara Nightingale Gallery (Watermill, NY), and Elements Gallery (Perth, Australia).
Reviews include Art ReView, Artcritical,com, Austin-American Statesman, Wagmag, NYArts Magazine, Bloomberg News, Brooklyn Rail, ART on AIR.com (MOMA, PS 1), and Australian National Radio. Her honors include fellowships and scholarships from Headlands Art Center, Austin Community Initiatives Award, Yaddo, ArtSprinter and BluePrint (COJECO). Lanina was named as one of the top 10 artists in NYC now by Revolt magazine in 2013. In 2015 she received an honorable citation from New York State Assembly.
To learn more about Yuliya Lanina and her work, please visit her site: www.yuliyalanina.com
The Earth Mother sculpture is available for sale. The price is $5,000 with a portion of the proceeds benefiting The Bee Cave Arts Foundation. Contact the artist directly at yuliyalanina@gmail.com if you are interested in acquiring the piece.
The Earth Mother sculpture has been commissioned by AIPP and exhibited at Ramsey Park, Austin, TX, prior to relocating to Bee Cave Park.