Damian Priour
Damian Priour resided just a few miles from the Park and is a famous sculptor who sadly passed in 2011.
Desert Blossom is a part of Damian's long time private collection.  With his use of Texas limestone and glass to create a sculpture which supports the natural essence of water, Desert Blossom is a carved piece of limestone with beautiful water colored glass blooming and flowing down sculpture.   The piece will forever be a symbol of Damian's ideas shining through his brilliant creativity.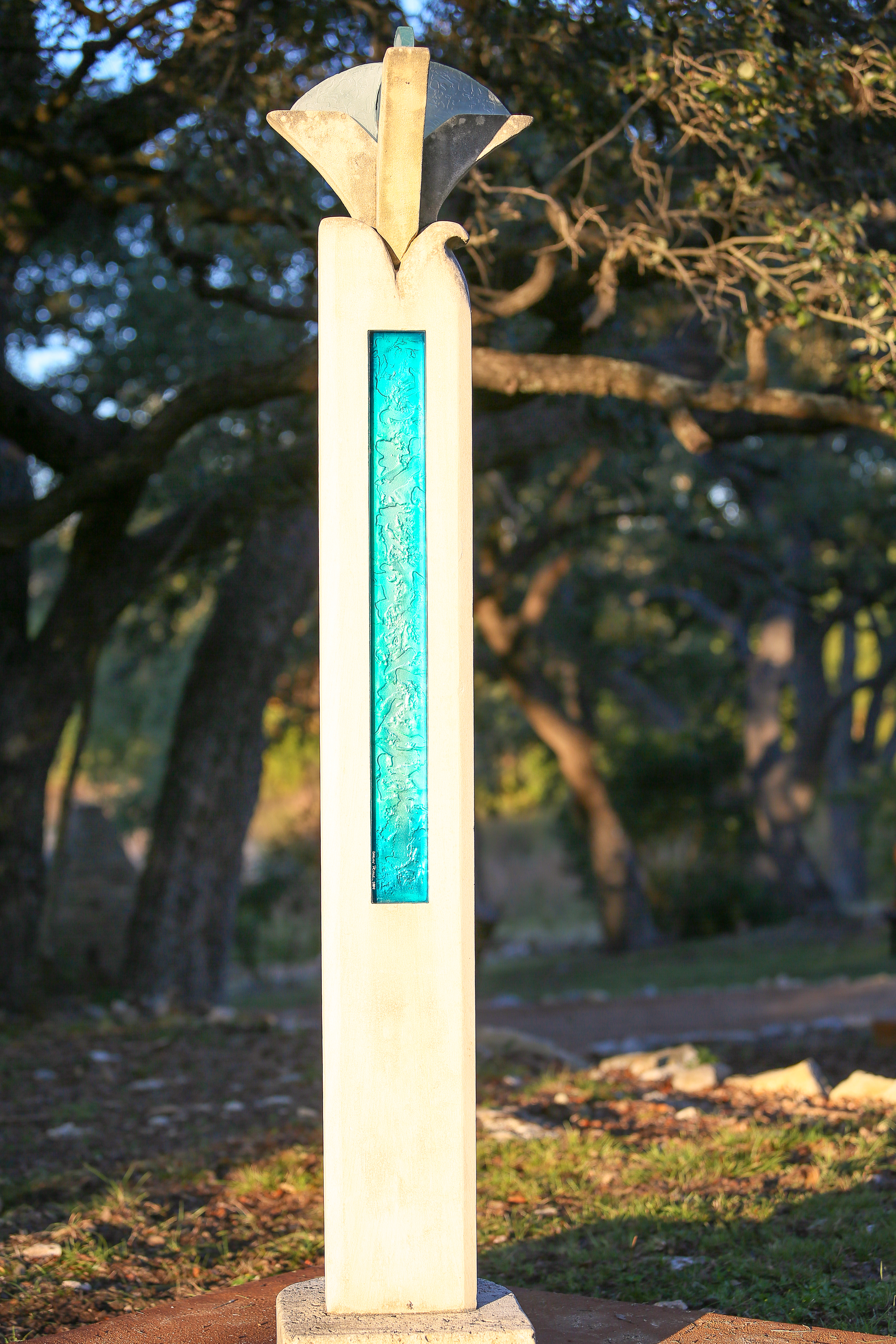 Damian Priour was 6 years old before he realized sand was not an ingredient on a hot dog. The eldest son of a family seven generations born on the shores of Padre Island, Priour and his art are products of the Gulf's tidal forces as surely as weather.
In his sculpture, glass has become a metaphor for water. It alternately pools in rivulets or flows like powerful currents, as he wills, carving up immense slabs of fossil-laced native Texas limestone. When Priour first combined the two in the 1970′s, like a sailfish yanked in by some incomprehensible force, he was hooked; the pairing of materials was as natural to him as saltwater. Damian Priour was active in the effort to conserve the Texas Hill Country and worked intensively strategizing about protecting water quality, open spaces and scenic vistas.
Damian Priour's sculptures have been widely exhibited and are included in important collections throughout the world: the Corning Museum of Glass, The Equitable Companies, McDonald's World Headquarters, and Texas Sculpture Park, among others. His art can be found in private collections as diverse as Cher's, the Southern Baptist Convention headquarters, and Emmaus Catholic Church; his large-scale works are displayed in public collections from Palm Springs to Austin to Corpus Christi. He has taught classes in creativity at the Pilchuck Glass School in Seattle and Centro del Arte in Monterrey, Mexico.  He was named the Texas State 3-Dimensional Artist for the year 2007-2008.
Priour received his Bachelor of Arts from the University of Texas at Austin in 1972, completed Design Studies at the University of California, Berkeley, in 1977, and participated in the International Sculpture Conference at Trinity College in Dublin, Ireland in 1988. He has taught classes in creativity at the Pilchuck Glass School in Seattle and Centro del Arte in Monterrey, Mexico.
Sadly he passed away in 2011.  His studio in Austin, Texas is now maintained by his son JJ, who wishes to follow in his father's artistic footsteps. 
To learn more please email JJ Priour.
The Desert Blossom sculpture is available for sale. The price is $18,000 with a portion of the proceeds benefitting The Bee Cave Arts Foundation. Contact the artist directly if you are interested in acquiring the piece.