Elizabeth Bonura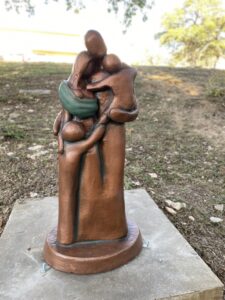 I'm originally from New Orleans, LA but grew up in Houston. I attended the University of Houston before transferring to the University of Texas at Austin where I graduated with a bachelor's degree in Computer Science.
I did not start out as a professional artist although I always knew I was meant to be one. I loved figurative sculpture and decided to create sculptures in my free time. After creating a portrait sculpture of my husband and myself for our wedding I realized I had a marketable talent. I received my first commission for a portrait cake topper the day I was laid off of my dot-com programming job. I took that as a sign I was meant to sculpt!
I soon received international acclaim for my polymer clay portrait sculptures and wedding cake toppers including the five-foot life-size "bride's cake" (where the polymer-clay-sculpted head and shoulders emerged from a six tiered cake). My work has appeared on CNN, Inside Edition, countless news stories and Inside Weekly Magazine. I have appeared on HGTV's That's Clever!, and my art dolls have been published in several national magazines.
My artwork is inspired by life, love, and above all, family. After getting engaged, I was greatly inspired by the idea that when a couple gets married two become one. This comes to life as the figures I sculpt are formed into a connected image. Once I became a mother, I began to add children to my artwork. This theme of connectedness continues by creating the children around the parents all emerging together. "My Family" was inspired by my own family with three boys.