Doyle Morgan Fellers
Doyle Morgan Fellers has been a part of the art and music world for many years. His creative talents as a sculptor, painter, poet and musician have been expressed in many ways. He has authored three books of poetry and four related to meditation. In 2008 he was named Poet Laureate by the City of Dripping Springs.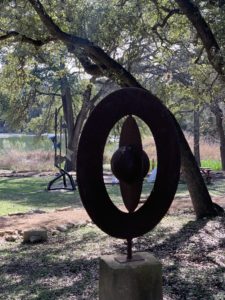 His sculptures are now on display at the Worrell Gallery in Santa Fe, New Mexico. His studio and workshop are located just outside of Dripping Springs where he maintains a sculpture garden to share and display his work and well as that of other sculptors. The garden and studio is open by appointment only.
Doyle said, "Symbolism is the essence of my sculpture, it is simple yet expressive. It combines geometric and freeform shapes, but the circle is the encompassing factor and provides a focal point for the observer. The sphere frames a combination of symbolic shapes to capture and direct the sun's rays and create moving shadow patterns; light and shade to please and tease the eye in concert with the passing hours of the day."
The work currently on display at the Bee Caves Sculpture Garden is titled Elliptical Illusions; price $1,850. A portion of the proceeds will be donated to The Bee Cave Arts Foundation.